OUR APPROACH TO SUSTAINABILITY & RESPONSIBILITY
We are Creators of Conviviality. We bring good times from a good place, to create a more convivial world, a world without excess.
True to our founding spirit, we bring people together to consciously craft our wines and contribute to a world without excess. We are passionate hosts, a family of exceptional people who are committed to fighting alcohol misuse. We are respectful guests who care for and strive to protect and nurture the terroirs and environments we live in.

Our 2030 Sustainability & Responsibility Roadmap, Good Times from a Good Place, will guide us as we continue to minimise environmental impacts and support our people, communities and business partners to work towards a more sustainable world.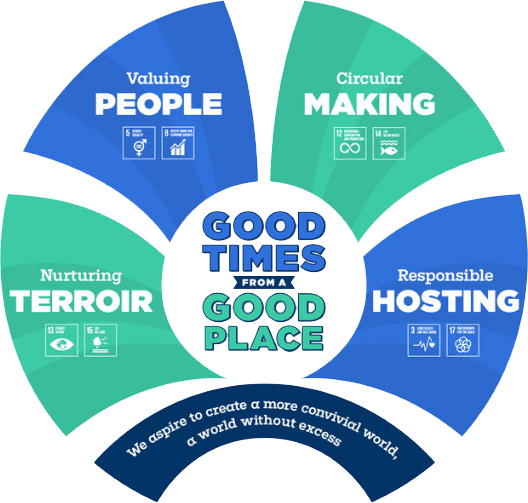 OUR 2030 ROADMAP
Together, we will continue to work towards our ambitious goals and targets and ensure we are contributing meaningfully to the global sustainability agenda. Our Sustainability & Responsibility Roadmap is underpinned by four pillars that directly support the United Nations Sustainable Development Goals (SDGs), and our contribution has been recognised by the UN Global Compact LEAD Program – the only wine and spirits company to achieve this accolade.
Our Pillars
Nurturing Terroir
Our wines take their character from the land where they were grown. We nurture every terroir. We are experimenting with regenerative agriculture to enhance our lands biodiversity and respond to the challenges of climate change to ensure quality ingredients now and for generations to come.
Valuing People
Conviviality is about sharing, warmth, care and respect for people everywhere. We are committed to diversity and fairness for all our people and empower people across our supply chain.
Circular Making
We share a world of finite resources, under huge pressure. Our sites across Australia, New Zealand and Spain will continue to reduce our emissions. We minimise waste at every step to help preserve natural resources.
Responsible Hosting
Our wines bring people together and serve a valuable role in society. We fight alcohol misuse in society by taking action on harmful drinking and engaging with our stakeholders for real change.
DON'T TAKE OUR WORD FOR IT
We engage with the world's best environmental, social and governance (ESG) rating agencies, sustainability performance organisation and enter awards around the globe to benchmark our sustainability efforts. Commitment to improving our sustainability performance is embedded across our business, and we will continue to drive performance in a way that has meaningful impact on our planet. Here's a snapshot of our progress so far.
Global

Awarded 2019 Drinks Business 'Green Company of the Year'

Excellence status with ESG rating agency Vigeo Eiris

Leader status with ESG rating agency Sustainalytics

AA grade with ESG rating agency MSCI

Gold status with ESG rating agency Ecovardis – among top 1% of companies globally

A list company with CDP an environmental impact disclosure ranking
New Zealand

Awarded 2015 and 2019 Cawthron Marlborough Environment Awards Wine Industry Category Winner

Recipient of New Zealand's Enviro-Mark Gold level for its ongoing measurable environmental improvement program

Signatory to the Biosecurity Business Pledge
Spain

Awarded 2015 Vinum Nature Sustainable Action Award for environmentally friendly practices

Wineries for Climate Protection certification

Campo Viejo is the first Spanish winery to certify its carbon footprint through AENOR
Australia

Awarded 2020 National Energy Efficiency Award for Leading Energy User

Awarded 2020 National Energy Efficiency Award for Integrated Clean Energy

Awarded 2020 Employer of Choice for Gender Equality (Workplace Gender Equality Agency)

Awarded 2019 South Australia Wine Industry Association's Environmental Excellence Award

Awarded 2019 Excellence in Corporate Social Responsibility at the ACC Australia Corporate Lawyer Awards

Awarded 2019 'Contribution to Industry, Gender Equity' award by The Australian Drinks Awards for 'Better Balance'

South Australian Wine Industry Association Awards 2019, 2018, 2016, 2015 for 'Environmental Excellence' in the large winery category

Drinks Business Green Awards – Green Company – Commendation 2018

Drinks Business Green Awards – Amorim Biodiversity Award 2017
Spain

All estate vineyards are Sonoma Sustainable Certified

California Sustainable Winegrowing Alliance certification for Kenwood Winery and Vineyards (achieved July 20)

Napa Green Certification for Winery (achieved July 20)
Case Study
NURTURING TERROIR: FOREVER PROTECTING OUR KAITUNA WETLANDS
As part of our commitment to protect the land in our local communities, our Kaituna Wetlands has become the first Marlborough vineyard to be protected by the QEII National Trust. Over the last 150-years, New Zealand has lost 90 percent of its wetlands due to farming, pollution and invasive plants and this partnership will aid the protection of biodiversity and heritage on private land that is critical to reversing the decline of indigenous biodiversity and preserving our history. The Kaituna Wetlands contains one of the largest areas of Raupo wetland on the Wairau plains and our New Zealand team has spent the past decade restoring the 5-hectare wetland, with weed and pest eradication, along with thousands of trees planted.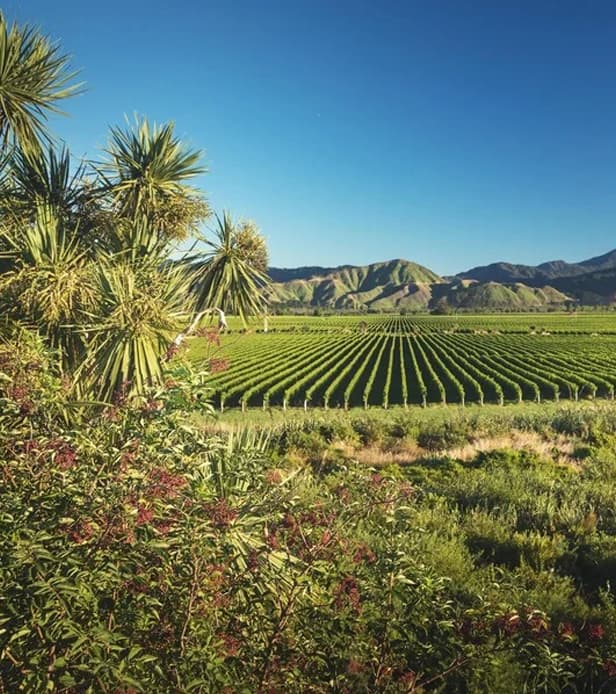 VALUING PEOPLE: OUR GLOBAL PR WINEMAKERS YOUTH NETWORKS
Following the relaunch of the Youth Network initiative across Pernod Ricard Winemakers in October of 2017, PRW announced 50 global young professionals that make up the Pernod Ricard Winemakers Youth Network Committee. Spanning across 4 countries, and 10 offices, this group of passionate young professionals have been successful in their applications to take part in the newly designed initiative offering closer connection to PR Winemaker's Senior Leadership team.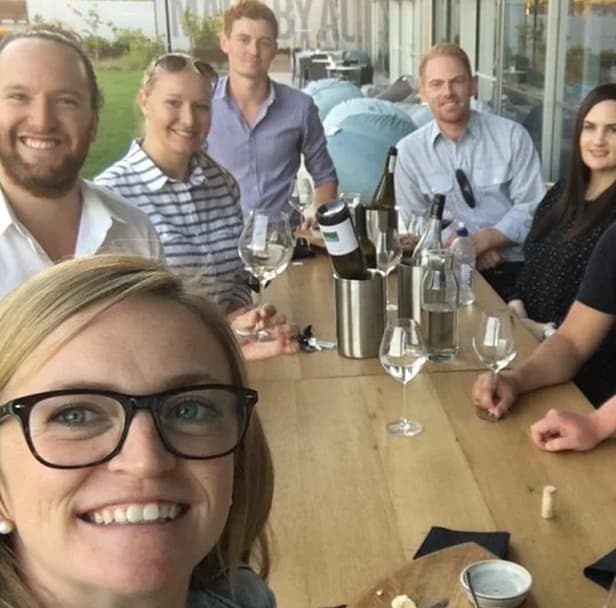 RESPONSIBLE HOSTING: FIGHTING BINGE DRINKING AMONG YOUNG ADULTS
In our 2019 S&R strategy, Pernod Ricard committed to expand its Responsible Party program globally to reach at least 1 million young adults by 2030.

To achieve this ambition, Responsible Party will reach new markets and new setting such as festivals and activations. Alongside this diversification, a new social media campaign has been developed.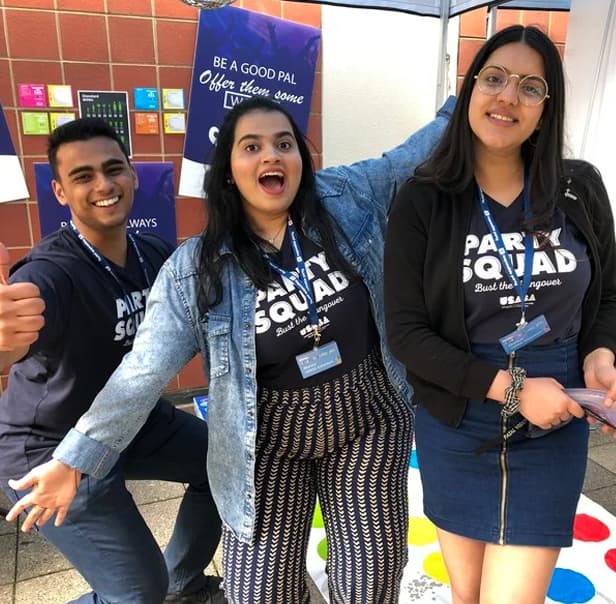 For the latest updates on our Sustainability & Responsibility initiatives, check out our News Centre, LinkedIn and Instagram.